Hello love, maybe you wonder, do I now need a visa to travel to Spain this year 2020, 2021, or 2022? How do I manage the ETIAS VISA? These are two of the questions that we have been asked the most lately in the Viajamor.com chat.
If you prefer, I have a video on Youtube where we talk about the ETIAS. You can see it in full or go directly to the minute we specifically address it, which is approximately 6:40 am.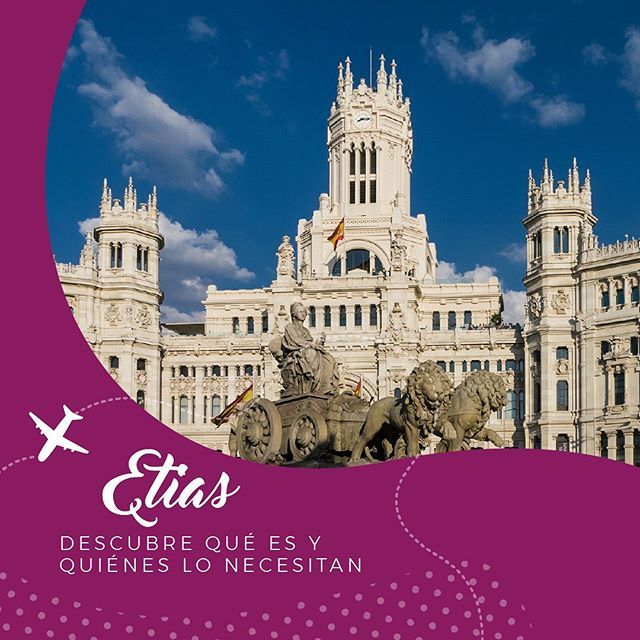 So, without further ado, what we will talk about today is ETIAS, for its acronym in English European Travel Information and Authorization System, a mandatory electronic authorization for citizens of visa-free countries in the Schengen area.
Although it takes effect in 2021, the most recent information from the official entity ETIAS is that it will take effect at the end of 2022. The interested party will be able to manage it directly over the Internet before making the trip. A single rate of 7 euros per adult (over 18 years old) will be by bank card and online, and minors will not have to pay. The ETIAS will be valid for three consecutive years, so I recommend that you have a passport valid for three years or more.
It will be very similar to the Electronic System for US Travel Authorization (ESTA), which I manage very frequently for our European travellers going to the United States.
Authorities estimate that 95% of electronic applications will be approved in less than 10 minutes. Requests that raise questions will be handled manually.
What is this ETIAS? Visa to travel to Spain?
It is the European Information and Travel Authorization System mandatory for visitors from countries that do not need a visa to access the Schengen area. The system will subject each applicant to a security check to determine if they are authorized to enter any country in the Schengen area. But it is not a visa.
The ETIAS system, in addition to being used for tourism and business purposes, will also allow people to visit the Schengen countries for medical and transit reasons.
From when will ETIAS take effect?
According to the most recent official communication from the European Commission, the entry into force of the ETIAS permit will become effective at the end of 2022.
Why was this non-visa to travel created?
Improve border management of the European Union (EU) countries.
Assist in the detection and reduction of crimes and terrorism.
Prevent irregular migration.
What steps will have to be followed to apply for the ETIAS?
They are expected to be the following:
1: Complete the application through the Internet with the following information:
Name.
Surname.
Last name.
Birthdate.
Place of birth.
Data related to your citizenship.
Home.
Email and phone number.
Training and work experience.
First EU country that you plan to visit.
Background and eligibility questions that report your medical condition travel to countries at war or places where you received an order to abandon or deny entry, as well as a criminal record.
In the case of minors, the legal guardian must take charge of the ETIAS travel authorization request.
In the case of family members of EU citizens originating from other countries, they must present proof of kinship ties, residence cards, and additional background information.
2. Sending the application
3. Fee payment.
4. If the information is correct, meets the requirements, and does not pose a danger to the Schengen Area countries, your application will be approved in minutes, and the visa authorization to travel to Spain and other cities in the area will arrive by email. Schengen. However, if any information the system considers inappropriate, the request will be processed manually. The manual process is expected to last between 4 days and two weeks.
Do you still have doubts about which country needs ETIAS or not?
Here is a list ordered alphabetically. All citizens of the countries mentioned below will be required to obtain an ETIAS travel authorization before entering any European Union country.
Albania
Andorra
Antigua and Barbuda
Argentina
Australia
Bahamas
Barbados
Bosnia and Herzegovina
Brasil
Brunei
Canadá
Chile
Colombia
Costa Rica
Dominica
El Salvador
Georgia
Granada
Guatemala
Honduras
Hong Kong
Israel
Japón
Kiribati
Macao
Macedonia del Norte
Malaysia
Marshall Islands
Mauritius
México
Micronesia
Moldova
Mónaco
Montenegro
Nauru
New Zealand
Nicaragua
Palau
Panamá
Paraguay
Perú
Saint Kitts and Nevis
Saint Lucia
Saint Vincent
Samoa
Serbia
Seychelles
Singapore
Solomon Islands
South Korea
Taiwan
Timor Leste
Tonga
Trinidad and Tobago
Tuvalu
Ukraine
United Arab Emirates
United States of America
Uruguay
Vanuatu
Venezuela
Is your country on the list? What do you think of this new measure? I love reading your comments and answering your questions.